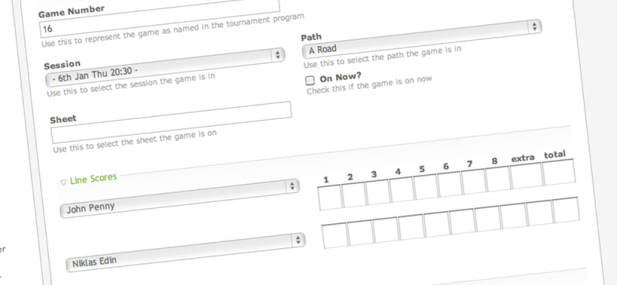 The Curling Results Service is a database that supports a number of curling tournament formats. It allows line scores to entered and displayed to users in real-time, and presents the information in a variety of different ways.
The Curling Results Service has evolved over the past 11 years, and has been used in a wide range of tournaments, from the World Curling Champsionship at Breahead in 2000, to Perth Masters, European Senior Championship at Greenacres and Edinburgh Internationals at Murrayfield, Edinburgh.
The Curling Results Service can be integrated in with the Contao CMS system, and upon request into any other other CMS or bespoke website. Please contact me for information and pricing.
Features
Triple knockout, schenkel and round robin tournament modes supported
Automatic generation of league tables
Automatic population of draw for triple knockout and schenkel tournament modes
Intuitive admin interface to populate and modify all aspects of the competition
Split events into Paths, Groups and Sessions
Colour code games in different paths.
Support for iOS application
Manage multiple events – use this to run more than one tournament simulataneously or to provide an archive of previous tournaments.
Number of visual elements to display information on your website:

Results tables
Draw tables
Tournament Brackets (Triple Knockout only)
League Tables
Team Lists
Web Service (for external data feeds)
Additional bespoke features are available on request. To get the Curling Results Service integrated into your website for a tournament, please contact me for a quote.